M.K. Pranesh has collaborated and experimented with global artists . There is a ongoing project called Sangama with Ned McGown of Netherlands and Pravin Godkhindi.
We play a mix of new compositions plus classical music from all three of our traditions: Carnatic, Hindustani and European.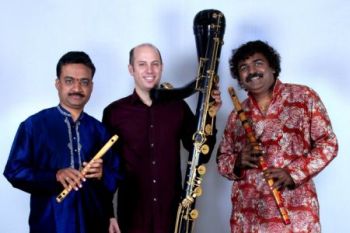 They have given joint concert combining the three styles of music. In the above picture you can see the entire team.
M.K. Pranesh – Carnatic flute
Pravin Godkhindi – Hindustani flute
Ned McGowan – key flute and contrabass flute
Vidwan Anoor Ananthakrishna Sharma – Indian percussion
B. C. Manjunath – Indian percussion